At KC Wood, we are a custom closet contractor with skilled cabinet makers and trim carpenters ready to build your ideal closet. Whether you are a homeowner, builder, architect or contractor, KC Wood will help with design and complete construction to make your closet dreams come to life.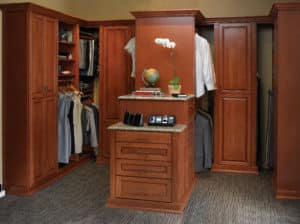 Looking for more organized storage space?
Ready to make the most out of every space in you home? With a custom closet contractor, your Kansas City home can have an amazing restyle today.
Start living all the benefits brought to you with the construction of a closet made especially for your needs. Save time and frustration by having an organized space for your personal belongings. You'll find that your closet can have a modern look plus you'll never again have trouble finding items.
that closet built or remodel beautifully and practically.
Improved Organization
Having a custom closet provides you many benefits, like having more storage. Custom closets can make the most advantage out of every space, both horizontally and vertically. Traditional closets just don't utilize space as well as a beautiful and practical remodel.
Place your custom closet anywhere you want. We can build it in any area of your home, in any size, and with a style, you are looking for. If you can dream it, we can build it.
There are many options when it comes to having a custom closet built. The job of our designers is to help you with the best advice possible based on their experience. Popular custom closet options from which to choose are: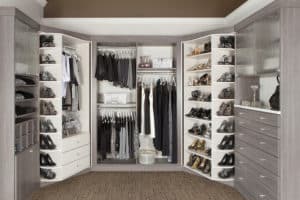 Additionally, as many closet accessories as you want can be useful within your custom closet. Accessories provide specific features to organize a wardrobe most advantageously.
After understanding client needs, certain accessory recommendations will work  into your closet. Here's a large list of accessories from which to choose: 
Jewelry organizers

Tilt-Out hampers

Pull-Out Options

Shelves

Racks for ties, belts or scarves

Mirrors

Hampers
You can look for more accessories to add to your closet on our website. Find the ones that best suit you.
Our Process
Initially, with just a picture of the space where you wish your closet to be or a picture of a closet you would like to remodel, we can send you information and an initial estimate.
After our services are hired, we proceed with a visit to the client's house to get exact measurements. To ensure we fulfill your expectations, our team will send drawings to the client for design approval before moving forward. When designs meet client approval, then we are ready to proceed with ordering materials. 
Contact Us for More Information
Feel free to contact us to learn about installing a custom closet in your home. We have a showroom to see first-hand real samples of our work; this allows potential clients to see custom closets and tryout different accessories.
Kansas City Custom Closet Contractor